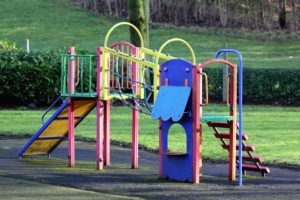 San Antonio Slip and Fall Lawyers
A playground injury is common among children. Children love to run, play, and seek adventure. But as their activity level increases, so does their risk of suffering a playground injury. A child's playground injury can occur in many places, such as a park or school. So if you have a child who has suffered severe injuries from a playground on another's property, or you are concerned that your child may suffer a playground on another's property, it is important to read this article.
According to the Centers for Disease Control and Prevention (CDC), almost 2.8 million children in the United States suffer Slip and Fall related injuries. Emergency departments treat more than 200,000 children ages 14 and younger for playground-related injuries, and more than 20,000 of these children are treated for a traumatic brain injury (TBI), including concussion. About 56% of playground-related injuries that are treated in emergency departments are fractures and contusions/abrasions.
Playground-related injuries or other injuries can be attributed to:
Rusty equipment

Broken equipment

Lack of supervision

Improper adult-to-child ratio

Improper flooring/ground material

Inadequate inspection of the playground area
Contact Stolmeier Law, San Antonio Slip and Fall Lawyers
We are San Antonio Slip and Fall lawyers. Stolmeier Law has served playground victims in San Antonio and South Texas for over 35 years. Stolmeier Law is dedicated to getting playground injury victims and other personal injury victims the most compensation possible. We will never treat you like just another case and we will not pass your case down to an inexperienced lawyer. Unlike other law firms, at Stolmeier Law, you will be able to put a face to the name of the lawyer that is actually representing you, not just to the lawyer on TV. So if you or a loved one has been severely injured in a playground injury on another's property do not hesitate to contact Stolmeier Law, San Antonio Slip and Fall lawyers. Slip and Fall? Call Stolmeier Law.