San Antonio Slip and Fall Lawyers
Water Park Injury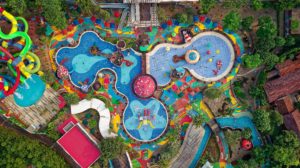 When you take your friends and family to a water park you typically expect to enjoy the rides, food, and environment. The last thing on your mind is potentially suffering a serious water park injury as a result of the water park's negligence. However, while water park injuries may not be a concern of yours, of the reported injuries, 18% were fractures to arms or legs and 15% were head injuries.
Water Park Injury Dangers
Slip and Falls are a common cause of water park injury. Water park owners and staff are expected to keep the water park safe from hazardous dangers that can lead to Slip, Trip, or Falls. The following hazardous dangers can lead to Slip, Trip or Falls:
Unsafely located life jackets or rafts;

Unsafely located beach chairs;

Unsafely located concession stands;

Unsafely located crates;

Unsafe bathrooms;

No warning signs present;

No safety mats present;

Bathrooms not regularly dried; or

Bathroom flooring that does not have an anti-slip surface, such as a specific anti-slip flooring or a painted floor containing anti-slip ingredients.

Unsafe stairways, especially to enter rides;

Rides with a unsafe stair material;

Rides with unsafe stair material that does not contain anti-slip ingredients; or

Rides that expect riders to carry burdensome rafts or tubs up stairs 
Inappropriate Use of Rafts or Tubes. 
Many rides require riders to use rafts or tubes to safely complete the ride. While it is extremely rare for a rider to enter a ride without a raft or tube for a ride that requires one, a rider can enter a ride without the appropriate raft or tube for the ride. Typically a rider will grab a raft or tube at the bottom of the ride's stairs. These rafts or tube are supposed to be located by the ride for which they are to be ridden on. However, often times, these rafts or tubes can get mixed up, and as a result, riders will enter a ride with an unreasonably safe raft or tube. Water park owners are expected to implement reasonable measures so the correct rafts or tubes are located by the correct rides. Additionally, water park owners are expected to reasonably train water park staff to identify when rafts or tubes are in the improper location or when a rider enters a ride with the improper raft or tube. 
A real problem can arise when water park owners do not even provide reasonably safe rafts or tubes for dangerous rides. Some rides can propel riders up to 60 mph and exert substantial force on the body. It is important water park owners provide rafts and tubes that provide reasonable neck support and hand grips in order to allow riders to safely complete these extreme rides. Appropriate raft and tube handgrips are vitally important because unlike roller coasters, water slide riders are not properly secured to the ride.
As a water park visitor, you are considered an invitee, and water park employees owe you the highest degree of care. However, a water park employee can breach his or her duty of care to you, which causes you injury, resulting in damages. A water park employee can negligently cause your injuries by:
Not enforcing proper water slide attire;

Not enforcing water slide height restrictions;

Not enforcing water slide weight restrictions;

Not enforcing proper raft or tube requirements;

Not properly maintaining water slides and other transactions; 

Inattentive, inadequate, or understaffed lifeguards; or

Improper bathroom, restaurant, or other facility maintenance.
Water Park Injuries
Water parks can be dangerous when water park owners and/or water park employees negligently create, know of, or should know of dangerous hazards to water park visitors. Water park visitors can suffer serious injuries, including:
Soft tissue injuries

Cuts, scrapes, or bruises

Sprains

Ligament damage

Broken bones

Back injuries

Spinal fractures

Slipped discs

Neck injuries

Head injuries

Concussions

Other traumatic brain injuries (TBI)

Death

Drowning

Falling off rides
Contact Stolmeier Law, San Antonio Slip and Fall Lawyers
We are San Antonio Slip and Fall lawyers. If you have suffered severe injuries at a water park due to the water park's owner's or employee's negligence you need an experienced personal injury attorney. Stolmeier Law has served many water park injury victims in San Antonio, South Texas, and the Greater Texas area over the past 35 years. We know what it takes to fight insurance companies and to get you the most compensation possible. So if you or a loved one has been seriously injured or killed due to a water park's negligence, contact Stolmeier Law, San Antonio Slip and Fall lawyers. Slip, Trip, or Fall? Call Stolmeier Law.